How to increase Telegram post views?

mahs kh
It Takes 4 Minute to read this article
---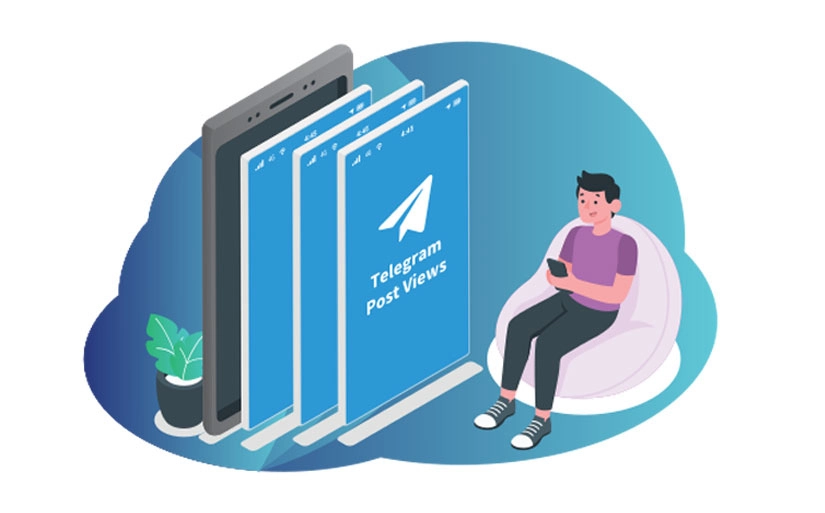 What is a Telegram post view?
Telegram is a popular app for chatting and sharing moments with people. It has cool features like groups and channels. In Telegram groups, you can chat and share things with others to stand out. Plus, Telegram channels are great for showing off your business and getting more attention. You can share a lot and interact more.
Telegram Post Views are an essential metric for channel admins to measure how many people see their posts. In this article, we'll explore Telegram post views and share some simple methods to get more views.
Understanding Telegram Post Views
Telegram channels use post views to provide insights into the number of individuals who have seen a specific post. It's important to note that this feature is exclusive to channels and does not apply to groups.
Telegram has become a pivotal branding and marketing too, especially for ICO projects and cryptocurrency startups. Building a big Telegram group and channel has become a key indicator of success.
Telegram: More than Just a Messenger
Telegram, often compared to WhatsApp, offers a range of features, including groups and channels. Many business owners and Bitcoin fans like to use Telegram because it's really safe. The platform ensures secure communication with channel followers and clients.
How to increase Telegram post views?
To boost your standing on the Telegram, your focus should be on increasing the number of people who view your posts. Engagement is the key, and having a higher post view count can have a significant impact on your success.
For beginners, this can be a bit challenging, but a proven strategy used by experienced marketers is to buy post views from real members.
1. Use Telegram Groups
Telegram groups are an effective way to bring together people who like the same things. You might also think about getting more members and post views for your group.
Share your Telegram channel in different Telegram groups. You can talk to others and tell them about your Telegram channel, reaching many more users. So, ask your current followers to join your Telegram channel, which will help you reach more people and grow your potential customer group.
2. Buy Telegram post views
Several services can help grow your Telegram channel like Telegram View. When you buy Telegram post view, you will increase your channel traffic. You can make your posts get a lot of views without spending too much money. You can check out the packages available at drtelegram, and it's suitable for your channel's last 1 to 100 posts.
A higher post view count not only improves engagement but also brings new Telegram members.
3. Collaborate with Influencers and Groups
The power of working together is highlighted. Collaborating with influencers or other Telegram groups can introduce your content to a broader audience. It provides insights into how to approach influencers and groups and what benefits these collaborations can bring.
Another way to increase post views on Telegram channels is by doing a little thing called "post exchange". In this way, there are many exchange groups where admins want to help by sharing each other's posts or banners. It's a way to help everyone get more attention.
4. Use Telegram view bot
You might be aware that Telegram has not just channels and groups but also these things called "bots," which are like little automated helpers. These Telegram bots are created and set up using a programming language called PHP.
Among the many Telegram bots out there, there's one called the Telegram Visit Enhancement Robot. It helps increase the number of people seeing your posts by automatically sharing them.
5. Publish video content
For entrepreneurs, using video content to boost product and service awareness is a smart move. Uploading creative videos on Telegram channels and actively seeking post views can enhance your presence on social media platforms.
To be good at promoting your Telegram channel, you should know about content strategy on social media. It will help you to understand how to plan your content. When you use effective to share content on your Telegram channel, your business will grow quickly.
6. Create Challenges or Polls
This is also a great way to increase your Telegram post views. When you make fun challenges or polls in your Telegram channel, more members get involved and chat, and they share stuff with their friends. This makes more users look at your posts, and you can even remind them with notifications or rewards for joining in.
Conclusion
Telegram post views play a big role in how well your channel or business does. By using the ideas and advice we've shared in this article, you can increase your Telegram post views and make your channel or business more visible on the internet.
Remember, Telegram is a big deal for branding and marketing in the online world - it's a game-changer in the digital landscape.
Thanks for review
Your comment has been submitted and will be displayed after approval.

Login to your account to chat with users.