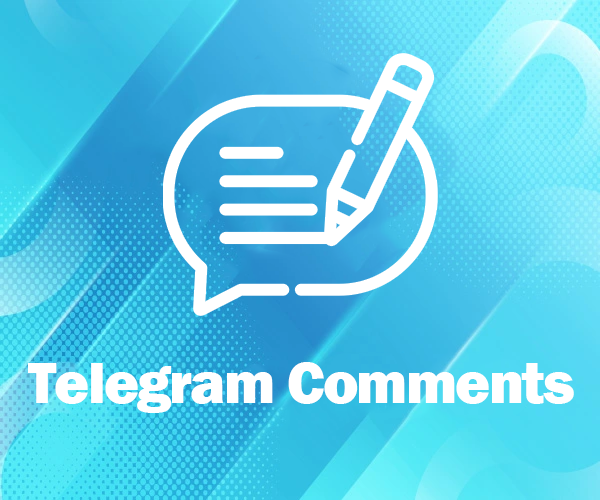 Fast Delivery | Cheapest in the world⚡️🔥
Our comments are not fake. They comment on your channel with their own awareness and they have accepted all the policies.
Features
Telegram Views Features
💎 Telegram Comments Quality
The best quality accounts
💲 Telegram Comments Price
Starting from $0.1
⏳Start Time
Instant
⏱ Support
24/7 Online
⭐️ Guarantee
Delivery & Refund
🎯 How to buy
Secure Payment Methods
Description
Buy Telegram comments
Telegram is a highly popular social media platform known for its versatility. In addition to facilitating communication with peers, it offers the ability to create communities, including groups and channels. These platforms enable users to freely share their thoughts and engage in discussions through comments. Initially, it may be challenging to find individuals who are willing to provide their opinions on your posts. However, this difficulty can now be overcome with ease.
You now have the option to purchase Telegram comments and maintain an active conversation within your channel. By doing so, you can encourage users to share their opinions on your posts, further enhancing the engaging atmosphere of your Telegram channel.
This method offers numerous advantages that await you, allowing your channel to become a lively and interactive space for entertainment and interaction among its members.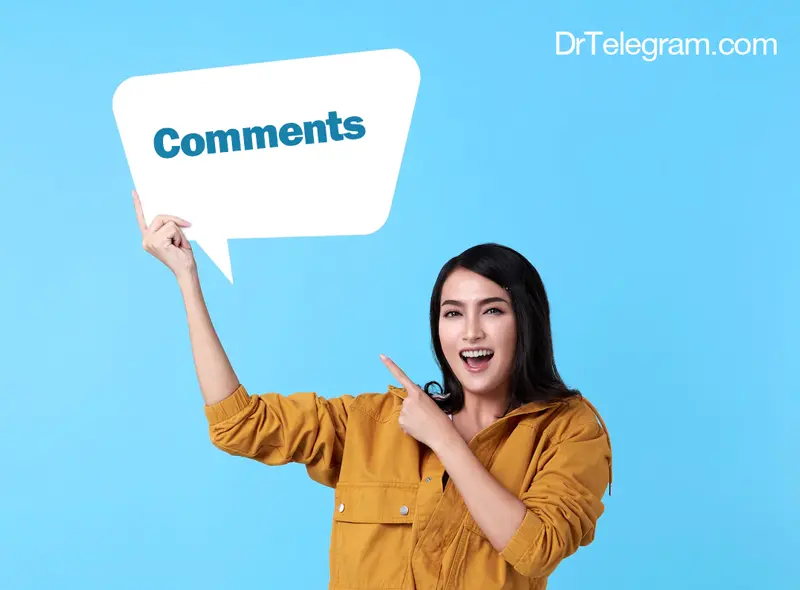 Buy Telegram Random Comments
To encourage interaction and gather opinions from your members, consider buying random comments for your Telegram posts. The presence of discussions among others is appealing to many individuals. By having random comments under your posts, you can attract the attention of other members and guide their thinking in a certain direction. When your members see active discussions in your Telegram channel, it creates a sense of reliability and liveliness, making your channel more appealing.
At DrTelegram, you have the opportunity to buy Telegram random comments at affordable prices and with instant delivery. Random Telegram comments refer to emoji comments or simple positive words. We offer affordable random Telegram comments in four target languages: English, Hindi, Chinese, and Russian.
We provide Telegram post comments from accounts that look real, ensuring that your purchase remains undetectable. It is recommended to maintain a balance between the number of post comments and the number of members in your channel. If you require additional comments, we suggest considering the option to buy Telegram members as well.
Buy Telegram Custom Comments
If you want your members to engage in discussions on specific topics and posts, this service is perfect for you. You can add custom comments with your desired text under your posts, effectively guiding the thoughts and conversations of your members in the direction you prefer.
For example, if you wish to promote your new service, you can incorporate positive comments about the service and motivate your subscribers to give it a try. By doing so, you can effectively encourage them to engage with and utilize your offered service.
Why should I buy Telegram post comments?
Buy Telegram comments can contribute significantly to the growth and success of your Telegram channel in various ways. There are several reasons why purchasing Telegram post comments can be beneficial:
Enhanced Engagement: Buying post comments can significantly boost engagement on your Telegram channel. When users see active discussions and conversations, it encourages them to participate and contribute their thoughts and opinions.

Social Proof: Comments on your posts serve as social proof, indicating that your content is being viewed and generating discussions. This can attract more users and increase credibility, making your channel appear more popular and active.

Interaction and Community Building: Comments foster interaction between you and your audience, allowing you to build a sense of community. Meaningful discussions can lead to stronger connections with your followers and create a loyal and engaged community around your channel.

Increased Visibility: More comments on your posts can improve the visibility of your channel within the Telegram platform. The algorithm tends to prioritize content with higher engagement, making it more likely to be recommended to other users.

Feedback and Insights: Comments provide valuable feedback and insights from your audience. You can gather opinions, suggestions, and ideas, helping you tailor your content to better meet their interests and preferences.
---
FAQs
Frequently Asked Questions
No, this service only works on public channels.
Yes, you can buy custom comments service.
Enter the custom comments texts in the comment box of the order.
our comment service is super instant.
Absolutely yes, all the comments we provide for your Telegram Group/Channel are 100% genuine and unique. They are sourced from real users, ensuring real and authentic engagement within your Telegram Group.
No, it is extremely unlikely for anyone, including Telegram, to discover that you have purchased comments. Our comments are sourced from real accounts, guaranteeing authenticity and discretion. Rest assured, unless you openly reveal this information, it will remain confidential.
Custom comments are specific comments tailored to your preferences and can be personalized to match the content or topic of your post. Random comments are more generic and typically consist of generic positive words or emojis, offering a more diverse and varied engagement experience.
Conditions
This service only works on channels
The channel should be public and comments should be active
Don't delete the post while the order is in progress
Reviews
Thanks for review
Your comment has been submitted and will be displayed after approval.

Login to your account to chat with users.