Buy Telegram Likes (Reactions) - Buy Telegram Reactions - Telegram Reactions - from 2$
buy Telegram reactions quickly, safely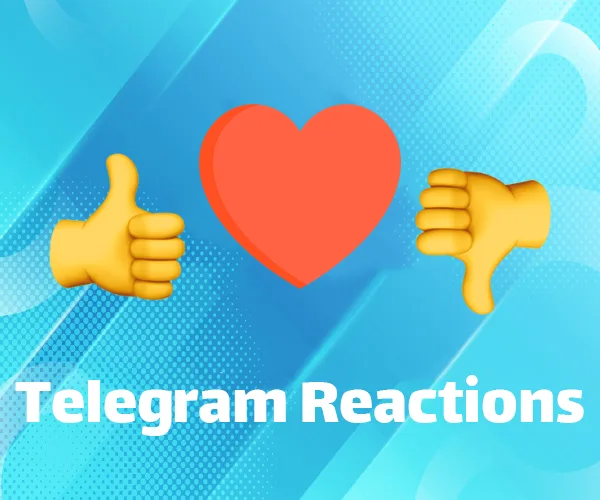 Buy Telegram Likes (Reactions) - Buy Telegram Reactions - Telegram Reactions - from 2$
buy Telegram reactions quickly, safely
Instant Start | Superfast ⚡️🔥
Plus free views for each Reaction
Use the tgr20 discount code to get a 20% Discount for Telegram reactions
Our reactions are not fake. They react to your posts with their own awareness and they have accepted all the policies.
Features
Telegram Reactions Features
Telegram Reactions Quality
High Speed
Telegram Reactions Price
Starting from $0.01
Start Time
Super Instant
Support
24/7 online
Guarantee
Delivery & Refund
How to buy
Secure Payment methods
Description
Buy Telegram Likes
Buy Telegram Likes | Buy Telegram Dislikes| Increase Telegram Reactions | Buy Telegram Reactions | Buy telegram Thumbs up
In a recent update, Telegram has introduced a bunch of new features, including Message Reactions to share feelings and feedback – without sending any messages. Here at DrTelegram, you can buy Telegram likes to increase Telegram Reactions.
On Dec. 30, 2021, Telegram announced the Message Reactions feature through a blog post. the feature will allow users to react with a thumbs-up emoji by double-tapping messages. Additionally, users will have the option to react to messages with other emojis such as a smiley face, fire emoji, thumbs-down emoji, and party popper by tapping once on Android and long-pressing on iOS. Further, each reaction appears on the chat interface with a unique animation. The feature will enable Telegram users to respond to messages on the platform quickly.
Reactions are always on in private chats. In groups and channels, the admins decide whether to turn on reactions and choose which reaction emoji are available in the chat.
if you have seen this new Telegram feature and want to increase it in the manner you want, take a look at our new Telegram Like service. you can easily increase Telegram likes from 20 to 300000 for 2$ each 1000.
Buy Telegram Reactions
Users can use the following emoji reactions on Telegram:
Thumbs Up 👍
Thumbs Down 👎
Red Heart ❤
Fire 🔥
Party Popper 🎉
Star Struck 🤩
Screamin Face 😱
Beaming Face 😁
Crying Face 😢
pile of Poo 💩
Face Vomiting 🤮
if you have participated in a competition and need to increase your likes. if you are a Telegram admin and want to increase your posts reactions, you need to buy likes cheap and fast. but how to increase telegram likes?
DrTelegram as the main Telegram service provider in the world provided Telegram likes right soon after Telegram announced this new feature.
so you can buy any amount of Telegram Likes, Dislikes, hearts, and other reactions cheap and fast.
Buy Telegram Likes and Dislikes
Advantages of telegram like service
Increasing Telegram Likes is completely safe and legit and has the below advantages for you:
zero drop rate
100% safe
high capacity
high speed
Like and dislike for channels
---
FAQs
Frequently Asked Questions
Newly Telegram has added a feature letting users react to posts by emojis. we can send additional likes and reactions at a very reasonable price.
Yes, we use safe methods to increase telegram likes, which is completely legal
everyone wants to get good reactions from audiences. We will help you to get good reactions in the manner you desire.
Prices for this service start at $2 for 1000 emojis. but you can buy from 20 reactions.
Conditions
The service doesn't work on groups!
Don't place another order when you have an active order in progress.
The channel should be public and remain public
Don't delete the post while the order is in progress
Reviews
Thanks for review
Your comment has been submitted and will be displayed after approval.

Login to your account to chat with users.