Buy Telegram Likes (Reactions) - Buy Telegram Reactions - Telegram Reactions - from 2$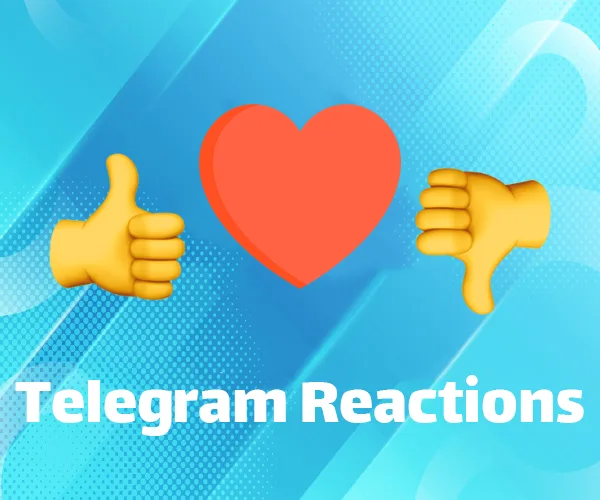 Buy Telegram Likes (Reactions) - Buy Telegram Reactions - Telegram Reactions - from 2$
Instant Start | Superfast ⚡️🔥
Plus free views for each Reaction
Use the tgr20 discount code to get a 20% Discount for Telegram reactions
Our reactions are not fake. They react to your posts with their own awareness and they have accepted all the policies.
Features
Telegram Reactions Features
💎Telegram Reactions Quality
High Speed
💲Telegram Reactions Price
Starting from $0.02
⏳Start Time
Super Instant
⏱ Support
24/7 Online
⭐️ Guarantee
Delivery & Refund
🎯 How to buy
Secure Payment Methods
Description
Buy Telegram Reaction
In a recent update, Telegram introduced an exciting addition called Telegram Reactions, allowing users to express their responses to chats and channel posts using emojis. Similar to Telegram comments and Telegram members, this feature is highly beneficial for business owners seeking instant and effortless feedback from their users.
If you aim to encourage member engagement or shape the reactions to your posts according to your preferences, we help you boost your Telegram reactions.
What is Telegram Reaction?
Telegram reactions are a feature within the Telegram platform that provides a way to quickly respond to messages without typing in private chats, groups, and channels. Users can choose from a variety of predefined reaction emojis or icons, such as thumbs up, hearts, laughter, surprise, and more, to convey their feelings or indicate their agreement or disagreement with a message 👍❤️😀😲.
When you react to a message, you and the sender can see a fun animation. Using Telegram reactions, you can give quick feedback without sending another message, helping keep your chat organized and tidy.
Reactions enhance the interactive and engaging nature of conversations on Telegram and provide a convenient means of expressing oneself in a concise and visual manner.
What are the Benefits of Buying Telegram Reactions?
Buying Telegram reactions provides numerous advantages for users. It offers a convenient way to express feelings using emojis instead of text messages, leading to increased activity on channel posts. Some of the benefits include:
Boost Engagement: Purchasing Telegram reactions can increase your review count on posts, encouraging others to do the same and enhancing engagement in your groups and channels. This improves your Telegram presence and makes your communities more lively and captivating.
Build Social Proof: Investing in Telegram reactions boosts your social proof, increasing your influence and attracting more followers, content views, channel members, and potential customers impressed by the high number of responses to your posts.
Increase Reaction Count: By purchasing Telegram Reactions, you can quickly increase the number of reactions to your posts, making your account appear more active and engaging. This immediate increase can attract organic reactions and interactions, enhancing the popularity of your channel or group.
Expand Your Reach: Increase your Telegram audience by buying reactions, generating interest in specific messages, and attracting more viewers. Higher response counts pique curiosity, leading to more subscribers and members in your channels and groups, regardless of their age or activity level.
Enhance Credibility: Boost your credibility and reputation by purchasing Telegram reactions, showcasing an active channel where users engage and express their opinions. A substantial reaction count aligned with your member base helps establish trustworthiness and encourages others to take your channel or group seriously.
Buy Telegram Likes
By purchasing Telegram reactions, you can access a range of emoji reactions. These reactions can be categorized into different groups such as positive and negative emojis, each carrying distinct meanings and expressions.
Here are some examples of Telegram emoji reactions that Users can use on Telegram:
Thumbs Up 👍
Thumbs Down 👎
Red Heart ❤
Fire 🔥
Party Popper 🎉
Star Struck 🤩
Screamin Face 😱
Beaming Face 😁
Crying Face 😢
Face Vomiting 🤮
---
FAQs
Frequently Asked Questions
Newly Telegram has added a feature letting users react to posts by emojis. we can send additional likes and reactions at a very reasonable price.
Yes, we use safe methods to increase telegram likes, which is completely legal
everyone wants to get good reactions from audiences. We will help you to get good reactions in the manner you desire.
Prices for this service start at $2 for 1000 emojis. but you can buy from 20 reactions.
Conditions
The service doesn't work on groups!
Don't place another order when you have an active order in progress.
The channel should be public and remain public
Don't delete the post while the order is in progress
Reviews
Thanks for review
Your comment has been submitted and will be displayed after approval.

Login to your account to chat with users.