Telegram's Role in Cryptocurrency Trading

mahs kh
It Takes 4 Minute to read this article
---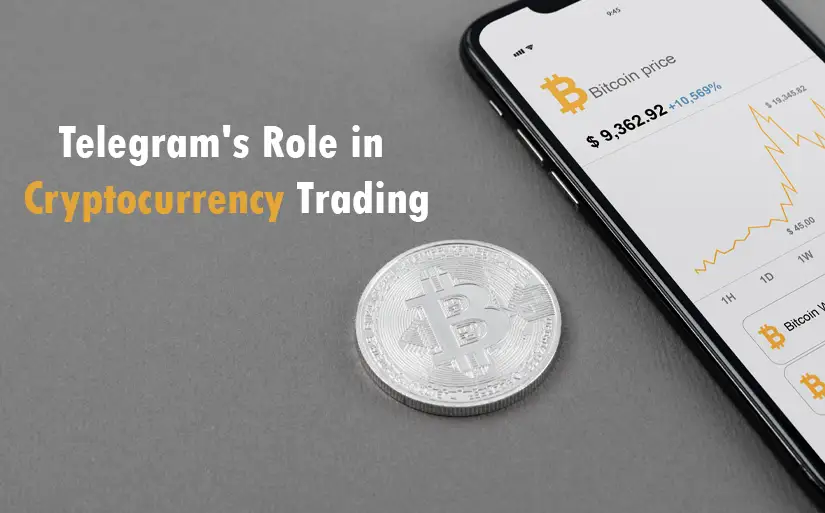 Telegram has emerged as a prominent platform for cryptocurrency trading, revolutionizing the way traders communicate, access market information, and execute transactions.
With its secure messaging features and large user base, Telegram provides a dynamic environment for traders to connect, share insights, and collaborate in real-time. Telegram's channels and groups serve as valuable resources for accessing trading signals, market analysis, and news updates.
Additionally, Telegram's trading bots offer automation and advanced functionalities, enabling traders to execute trades, monitor portfolios, and manage risk more efficiently. Overall, Telegram has become an integral part of the cryptocurrency trading ecosystem, empowering traders with enhanced communication, information, and trading capabilities.
Telegram's Role in Cryptocurrency Trading
Telegram, a popular instant messaging platform, has indeed had an impact on the cryptocurrency trading landscape. While Telegram itself does not facilitate cryptocurrency trading directly, it has become a platform for communities, groups, and channels focused on discussing and sharing information about cryptocurrencies and trading strategies.
This has led to several ways in which Telegram has revolutionized cryptocurrency trading:
1. Information and Research
Telegram has become a hub for crypto enthusiasts, traders, and experts to exchange information and conduct research. It serves as a valuable platform for information and research in the cryptocurrency space, hosting a wide range of communities, groups, and channels dedicated to discussing and sharing insights about various cryptocurrencies, market trends, and trading strategies.
Users can access real-time updates, technical analysis, and fundamental information, enabling them to make informed decisions. Many communities and groups on Telegram are dedicated to discussing market trends, analyzing charts, and sharing news and insights about cryptocurrencies. Traders can leverage this collective knowledge to make more informed decisions and stay updated with the latest news and developments in the cryptocurrency landscape.
The collaborative nature of Telegram allows users to engage in discussions and seek advice from experienced traders and experts, creating an environment where information and expertise are shared and leveraged for better trading outcomes.
Crypto Communities and Groups
Telegram's crypto communities are vibrant spaces where individuals gather to discuss and if you're interested in receiving crypto Telegram group signals, you can explore various Telegram channels and groups that provide trading signals and recommendations from experienced traders and analysts. These signals can help you stay informed about potential trading opportunities in the cryptocurrency market.
Also, there is a list of communities and groups in Telegram that try to attract traders, enthusiasts, developers, and investors, fostering information sharing, market analysis, and a strong sense of community among cryptocurrency enthusiasts. These communities cover a wide range of cryptocurrency topics, including specific coins, trading strategies, and blockchain technology.
Market Trends and Analysis
If you're looking for free market trends and analysis in the crypto space, Telegram offers a range of dedicated groups where you can stay informed about the latest insights and developments.
These crypto Telegram groups provide valuable market analysis and trends, helping you make informed decisions in the dynamic world of cryptocurrencies.
News and Insight sharing
Crypto Telegram groups offer free and valuable crypto news and insights sharing in Telegram. These groups provide a platform for users to stay informed about the latest developments, industry news, and valuable insights in the cryptocurrency space.
2. Trading Signals and Recommendations
You can find Telegram channels and groups that have emerged that provide forex trading signals and recommendations if you're looking for verified crypto traders on Telegram. Experienced traders and analysts share their insights and trading strategies, allowing less experienced traders to follow their trades.
These groups provide valuable insights and recommendations from experienced traders, helping you stay informed about potential trading opportunities and improve your trading performance in the cryptocurrency and forex markets.
3. Initial Coin Offerings (ICOs) and Token Sales
Telegram has become a popular platform for conducting "telegram initial coin offerings" (ICOs) and "initial token offerings" (ITOs). Many companies leverage the reach and convenience of Telegram to promote and facilitate "token sales in Telegram link."
By creating dedicated channels or groups, these companies engage with their community, provide project updates, and allow investors to stay informed about upcoming opportunities. Joining these channels enables investors to participate in discussions and gain access to valuable information related to ICOs and token sales on Telegram.
4. Peer-to-Peer Trading
Telegram's wallet bot enables users to engage in peer-to-peer trading of cryptocurrencies directly within the Telegram app. With the peer-to-peer trading feature, users can connect with each other, negotiate terms, and execute trades securely within the Telegram ecosystem.
This functionality enhances the convenience and accessibility of trading, providing users with a seamless platform for peer-to-peer crypto transactions. By utilizing the Telegram wallet bot, users can engage in P2P crypto trading while enjoying the benefits of a familiar and widely-used messaging app.
5. Market Analysis and Trading Bots
Telegram offers a range of bots designed to enhance your trading experience. If you're interested in tracking cryptocurrency prices, you can use the Telegram crypto price bot, which provides real-time updates on market prices. For forex trading, there are Telegram trading bots available that offer automation and analysis features tailored to the forex market.
Additionally, to stay informed about crypto market movements, you can rely on crypto alerts and Telegram bots that deliver timely notifications and alerts. These bots empower traders with valuable information and automation tools, helping them make informed decisions in the dynamic world of crypto and forex trading.
Conclusion
It is important to note that while Telegram offers many advantages for cryptocurrency traders, it also carries risks. As with any online platform, users should exercise caution and conduct thorough research before engaging in trading or investment activities. It is crucial to verify the credibility of information sources and exercise due diligence to protect oneself from scams or fraudulent schemes that may be promoted on Telegram or elsewhere in the cryptocurrency space.
Thanks for review
Your comment has been submitted and will be displayed after approval.

Login to your account to chat with users.