How to Deactivate or Delete Your Telegram Account Permanently? 2023 updated

mahs kh
It Takes 4 Minute to read this article
---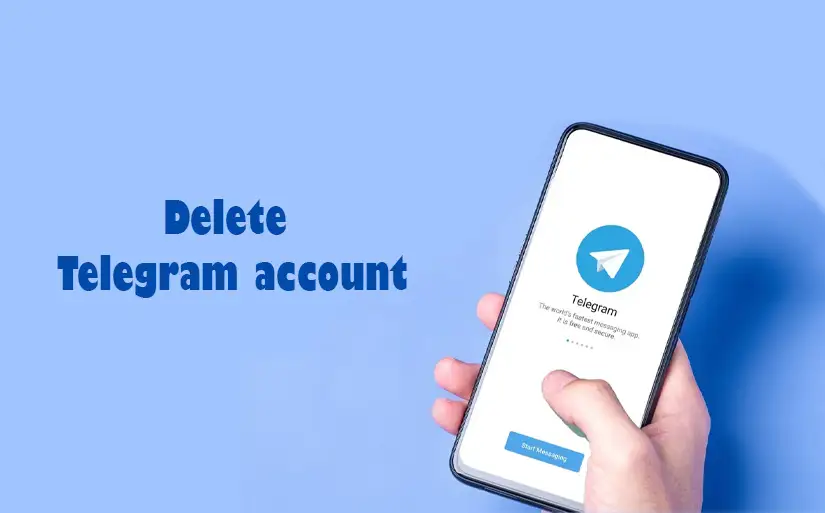 What you will read in this article
How to Deactivate or Delete Your Telegram Account Permanently? 2023 updated

Looking for the easiest way to permanently delete your Telegram account? Here, We have the perfect solution for you.
Deleting your Telegram account allows you to remove your presence from the messaging platform permanently. Whether you're looking for a fresh start or no longer wish to use Telegram, this guide will provide you with the necessary steps to delete your account
Remember to back up your important data before deleting your Telegram account
Before you delete your Telegram account, it's crucial to understand that all your data and chats will be permanently deleted and cannot be recovered. However, if you have created channels or groups, they will remain active, with control transferred to an existing admin or a randomly selected active member. Remember that you won't be able to create a new Telegram account with the same phone number for a few days, and once the account is deleted, it cannot be restored.
Telegram Delete account
You have multiple options to delete your Telegram account. You can use the app on your Android phone or iPhone, or you can visit the Telegram website for step-by-step instructions on deleting your account.
Manually Deleting Telegram
Until now, there has not been a direct option to delete an account in the Telegram app. However, this option has now been added for iPhone users, but it is still not available for Android users. Therefore, the alternative way to delete a Telegram account is through a deletion link. This can be done using both PC and mobile.
Previously, there was no direct option to delete a Telegram account within the app. Although this feature has now been added for iPhone users, Android users still do not have this capability. As an alternative, the recommended method to delete a Telegram account is by using a Telegram delete account link.
Here are the steps to follow:
Go to My Telegram.

Enter your account phone number in the correct international format.

Click Next.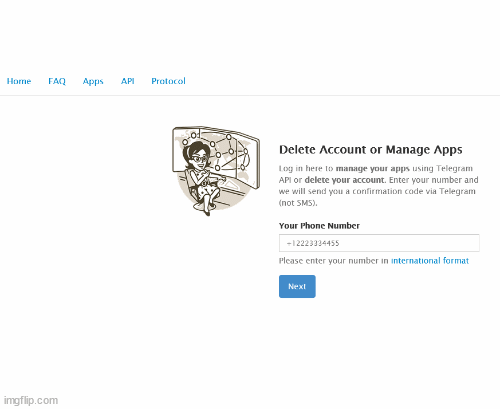 You will receive a confirmation code on your Telegram app, add a confirmation code

Open the Telegram messenger, Tap on the message from the telegram.

Copy the Code, Enter the code, and press 'Sign In'

Click on Delete Account.

Click the Delete My Account button
When you decide to leave the Telegram service, you can choose to explain a reason for your leaving or leave the box empty—it's entirely up to you.
Confirm

Check your account was deleted
Deleting by Adjusting Self-Destruction Settings
Telegram offers a security feature called self-destruction, where an account is automatically deleted after a specific period of inactivity. By default, the self-destruct period is set to 1 year, but you have the option to adjust it to a shorter duration if desired.
How to delete a Telegram account permanently on Android?
On mobile, for Android users, deleting a Telegram account isn't straightforward; instead, you need to deactivate it through the deactivation process.
To delete your Telegram account on mobile devices, you need to deactivate it using the self-destruct feature in the Telegram Android app. By choosing a specific time frame, your account will be disabled, resulting in the permanent deletion of contacts and messages.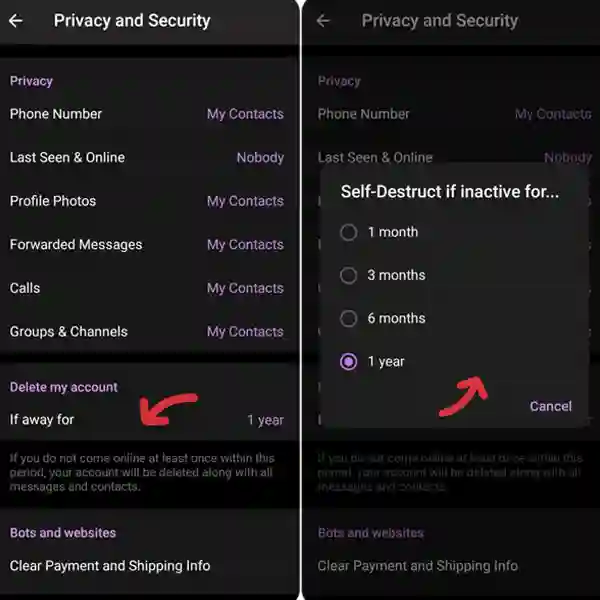 How to delete a Telegram account permanently on iPhone?
To delete your Telegram account permanently, you can follow these steps:
Open Telegram on your iPhone and go to Settings.

Scroll down and select "Privacy and Security."

Scroll over to "If Away for" option

Click on "Delete Account Now" and proceed to confirm the prompt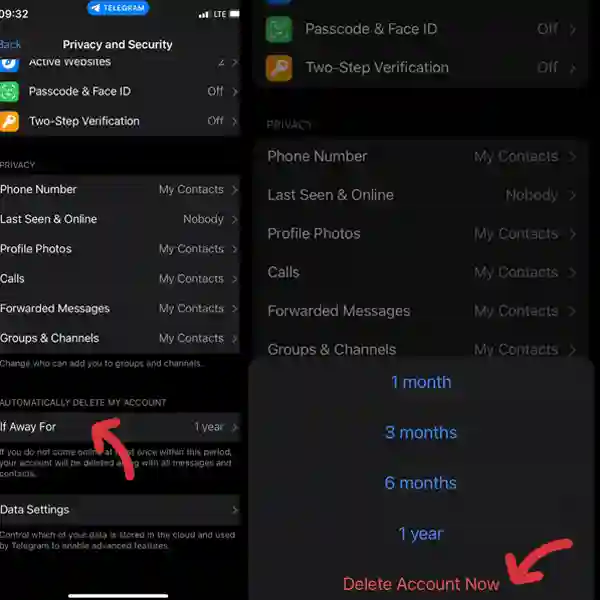 It's important to note that once you delete your account, you will lose all your messages, contacts, and other data permanently. So, make sure to back up any important data before proceeding with the deletion process.
Frequently Asked Questions
No, once you delete your account, it cannot be recovered. Therefore, it's important to consider this before proceeding with the deletion process.
For iPhone users, it's possible to delete their Telegram account but for others, they should use the Telegram web portal to delete the account permanently.
No, uninstalling the Telegram app from your device does not automatically delete your Telegram account. Your account remains active and can be accessed from another device by reinstalling the app and logging in with your account credentials.
Thanks for review
Your comment has been submitted and will be displayed after approval.

Login to your account to chat with users.