15 Practical Tips and Tricks of Telegram that You Must Know

mahs kh
It Takes 7 Minute to read this article
---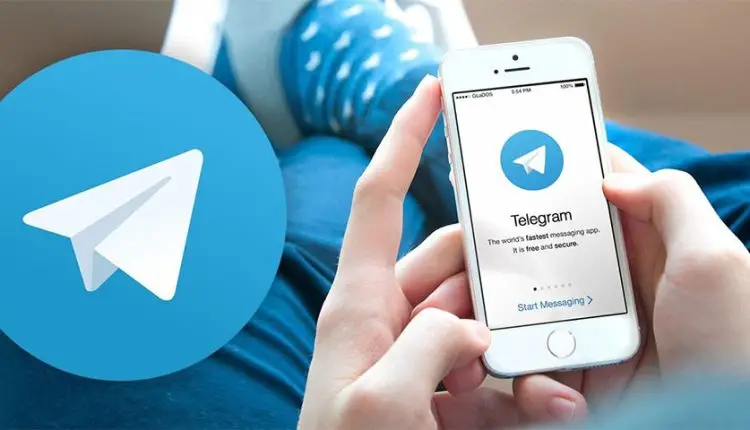 15 Practical Tips and Tricks of Telegram that You Must Know
Telegram is one of the most popular and free messengers that has been very popular due to its security features. This open-source application also allows its users to make encrypted video calls along with other features. In addition, you can use Telegram Messenger to have an encrypted secret chat with any person you like. So far, Telegram has been downloaded 500 million times on the Android operating system through the Google Play Store. In this article we are going to share with you some practical telegram Tips and Tricks that you must know about Telegram.
1- Edit sent messages
Telegram allows its users to edit messages they have already sent. To do this, go to the text of the message and select it. Then click Edit with the pencil icon at the top. After you make the desired changes, the Telegram app will tag your message as Edited. Note that you can only edit messages that you have sent in the last 48 hours.
2- Silent messages
If the person you are trying to send a message to is busy but you still want to send a message to them, you can use the silent message feature without being distracted. This telegram Tips and Tricks allows you to reach the message you are sending to the intended recipient, even if the person in front of your phone is not in Do not disturb mode, without the alarm or even vibration. To use this feature of Telegram, all you have to do is write the text of your desired message and then go to the send button and hold it. Then you can select the Send without sound option from this section.
3- Timing of messages
You can schedule your messages on Telegram. All you have to do is write the text of the message and go to the send button and hold it. From this section, you can automatically send your message to your contact at any time by selecting the "Schedule message" option and also selecting the desired time and hour.
4- Deletable files in normal chats
One of the Tips and Tricks is that The Telegram app lets you set specific times for multimedia files to be automatically deleted afterwards! This telegram Tips and Tricks was previously limited to "Secret Chat". However, since the release of the latest update, Telegram has also applied this feature to media such as images, videos and regular chats. To use the ability to automatically delete a photo or video, just tap on it and select the timer option. You can now select when you want the media to be lost automatically.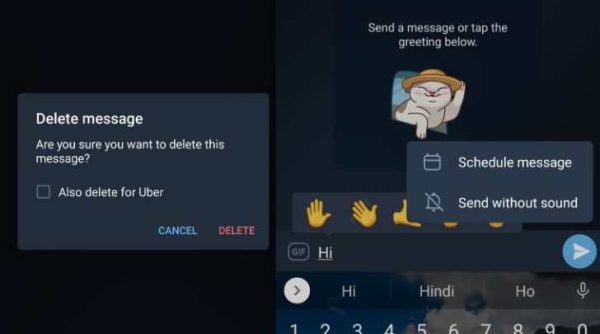 5. Delete the messages that were sent to you
Telegram allows you to delete messages that someone else has sent to you, in addition to deleting messages that you have sent to someone. To use this special feature, just go to the message you received and then click the delete button. This will show you two options if you click "Also delete for X" and then delete, the selected message for both parties will be deleted.
6- Editing videos
You can edit videos directly in Telegram. To use these Tips and Tricks, just open a chat and select the video you want to send. In the next step, just click on the settings icon to open the new video editor. Now from this section, you can change the elements you want to change, such as colour saturation, contrast, light (exposure) and others according to your taste and desire.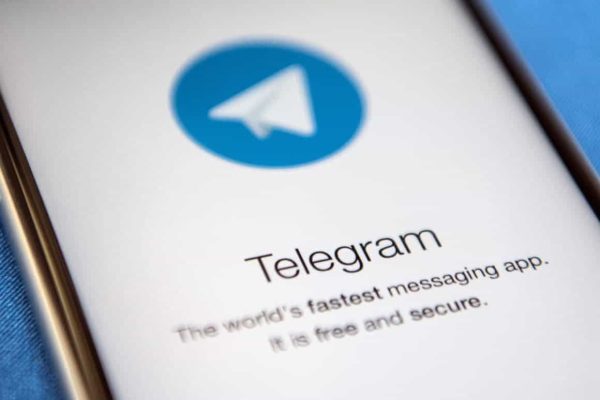 7- Search YouTube and fast GIFs
If you want to send a GIF or send a link to a YouTube video to someone without leaving the Telegram app, Telegram lets you. Just type gif @ or youtube @ and search for your item. Using this trick, you will have access to the desired results on the Telegram chat page.
Telegram also allows you to copy only the text you want instead of copying the whole message and then having to edit it! All you have to do is tap and hold the message, then tap again and specify the part of the text you want to copy.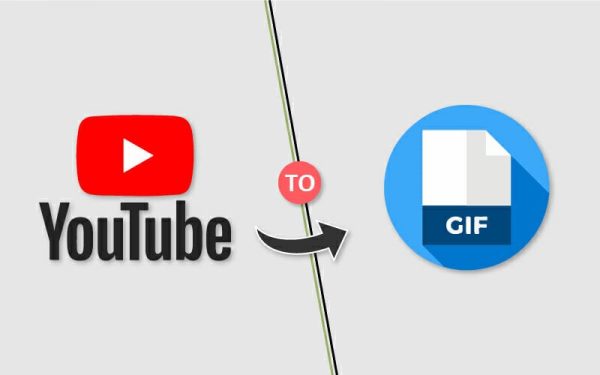 8. Personalize notifications
If you want to find out who sent you a message or called you without having to open the Telegram app, you can use the trick to personalize notifications in Telegram. You can access notifications and sounds specific to your audience from the settings menu using the Customize option.
Click on the photo of the person you want to customize the notifications related to the conversation. After that, a menu will be displayed for you, through which you can access notifications and sounds specific to that contact. You can also change the vibration of the notification (short, large or even disabled vibration) and any other changes you want, such as the sound and colour of the LED if your phone has an LED notification to your liking for the target audience Give.
9- Buy Telegram members
if you have a telegram channel or group for your business and want to grow it, you can buy telegram members. you can buy high-quality real looking members. buying telegram members will increase the social proof and credibility of your channel.
10- Put a password on your conversations
If you want to increase the security of your chats, you can put passwords on them in the Telegram app, so that whenever you want to access them, you need to enter a password to access the contents of the chat.
To do this, just go to Settings -> Privacy and Security -> Access code, and after setting the desired password, set the time when you want the chat to be locked again after that. The amount of this time can be adjusted from 1 minute to 5 hours. If your phone has a fingerprint sensor, you can also use this method to unlock the chat.
11- Read your messages without having to go online
Did you know that Telegram allows its users to read some messages without having to go online? You can read the new message sent to you by displaying the received message in the notifications section.
All you have to do is turn off your phone or Wi-Fi internet when you receive the message, then open Telegram and read the message you want. After reading the messages, close the Telegram application and reactivate your internet. simply!
12- Hide Telegram photos in the gallery
If you do not want the videos and photos sent to you via Telegram Messenger to be displayed in the phone gallery, you can use a very simple but at the same time practical trick.
To hide pictures and videos in Android, just go to settings and disable the "Save to Gallery" option. If you are an iPhone user, you must first go to your phone settings and select the Privacy section, and by going to the Photos section for the Telegram application, disable this access.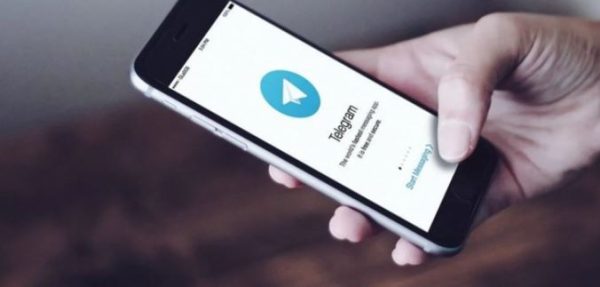 13- Reply to messages from the same home page
If you use Telegram, you can easily reply to incoming messages from the main screen of your Android phone without having to open the application. To do this, go to Settings -> Notifications and sounds -> Pop-up notifications and enable pop-up notifications from here.
In this section you are given the right to choose when notifications appear:
With the Screen On
With the Screen Off
Or Always
These telegram Tips and Tricks will be useful for times when you like to reply to messages sent in your telegram without unlocking the phone, but if you have a lot of open chats, it may be annoying for you.
14- Change the font size
In Telegram, you can change the font size of the displayed texts from 12 (smallest) to 30 (largest).
To change the font size, you have to go to Settings -> Messages -> Size and apply the necessary settings according to your taste.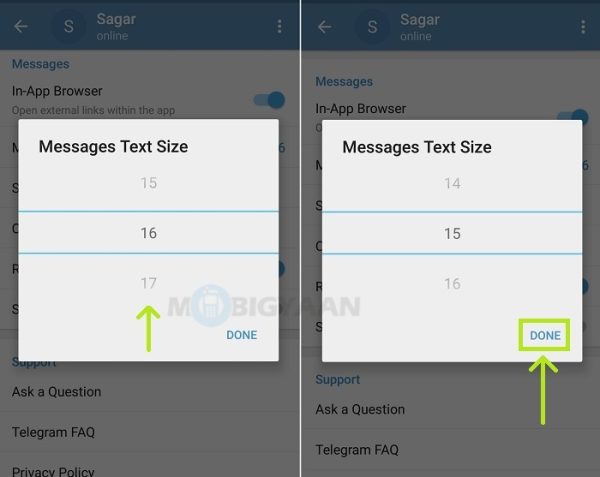 15- Download other languages
In Telegram, by default, you can choose between German, English, Spanish, Italian, Dutch, Portuguese, Arabic and Simplified Chinese. But what if you would like to have access to languages ​​such as Galician, Basque, Catalan or Persian? In this case, you should know that 144 languages ​​can now be downloaded and applied on Telegram. Of course, there are fewer languages ​​that you can access on your iPhone.
To download the language pack you need to create a Transifex account, but Telegram will provide you with another alternative. An alternative is to send a message to the support team via Settings -> Ask a question and they will send you the language you want.
Thanks for review
Your comment has been submitted and will be displayed after approval.

Login to your account to chat with users.